Brake® SP Registration Update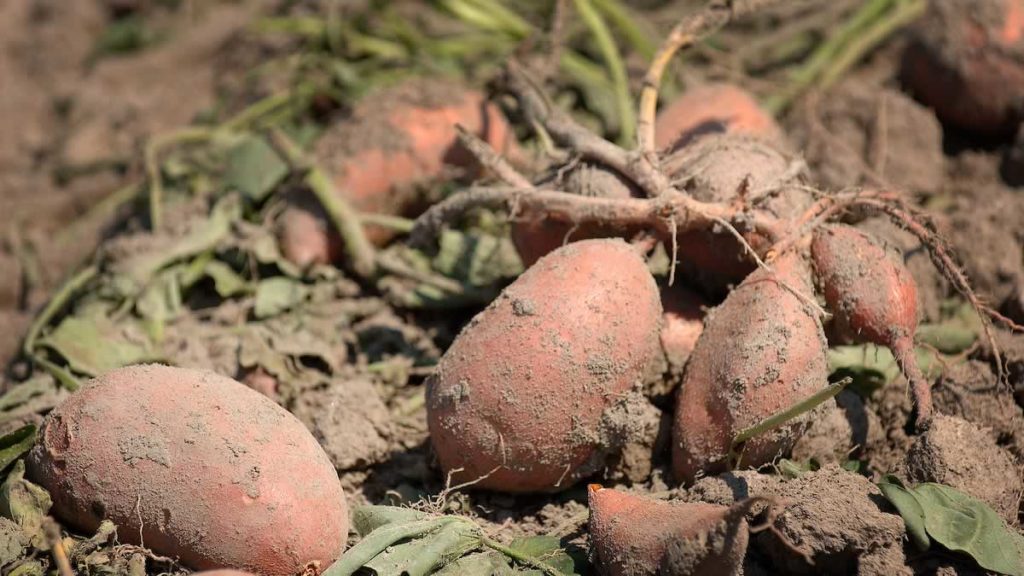 The recommended program for Palmer amaranth control in North Carolina sweetpotato is Valor at 3 oz per acre preplant followed by Dual Magnum at 0.75 pint per acre 7 to 14 days after transplanting. Valor herbicide is a PPO-inhibitor herbicide. PPO-resistant Palmer amaranth in North Carolina has been confirmed. PPO herbicides including Valor will not control PPO-resistant Palmer amaranth. Currently Valor is applied to approximately 98% of the sweetpotato fields in North Carolina. It is not known how much of the Palmer amaranth in North Carolina is PPO-resistant. It is critical to have a herbicide with a different mode of action that controls Palmer amaranth.
In anticipation of PPO-resistant Palmer amaranth being found in North Carolina, our program conducted research over the last few years on-farm and on research stations to evaluate Brake® SP herbicide for possible use in North Carolina sweetpotato. This research was supported by the NC Sweet Potato Commission. Earlier this year I put together a package to request an emergency label through the Environmental Protection Agency for Brake SP herbicide for use in North Carolina sweetpotato production. The section 18 label for Brake SP was just approved for sweetpotato in North Carolina for 2017. Brake SP herbicide contains the active ingredient fluridone. Fluridone, a Weed Science Society of America (WSSA) Group 12 herbicide, inhibits phytoene desaturase in plants. This herbicide has a unique mode of action compared to other herbicides including those that are registered for sweetpotato. Brake SP is the only option for preplant application to control PPO-resistant Palmer amaranth in sweetpotato. This herbicide also control other pigweeds that are common in sweetpotato.
The Brake SP label allows for one application of Brake SP by ground equipment at a rate of 64 to 80 oz per acre. Brake SP should be applied as a preplant application to the pre-formed bed (similar to the application method for Valor). Rainfall or overhead irrigation after application is necessary to activate Brake SP on soil for residual weed control. Dry weather following application of Brake SP may reduce weed control.  Brake SP may be tank mixed with Valor for more consistent control of Palmer amaranth.
In addition to Palmer amaranth Brake SP controls annual grasses and many other broadleaf weeds.
The following restrictions should be followed. 1) Do not apply when wind speeds are over 15 mph or during temperature inversions. 2) A maximum of 25,000 acres of sweetpotatoes with glyphosate- and PPO-resistant Palmer amaranth may be treated in North Carolina in the following counties: Bertie, Bladen, Columbus, Cumberland, Duplin, Edgecombe, Franklin, Greene, Harnett, Hoke, Johnston, Lenoir, Martin, Nash, Pitt, Sampson, Stokes, Wake, Wayne, and Wilson. 3) This registration expires July 20, 2017, and 4) Do not apply overtop of sweetpotato plants.
If you decide to try Brake SP, we suggest that you apply it to a small portion of your sweetpotato crop to gain experience with this herbicide, and, as always, read the label prior to use of any pesticide and follow all label instructions.
For Palmer amaranth control, it is necessary to employ several management strategies including application of herbicides, cultivation, and hand removal. If any Palmer amaranth escapes control, it is critical to remove escaped plants before seed development to avoid having more seeds entering the soil seed bank. When removing large Palmer amaranth by cutting and removing by hand, escaped weeds should be cut near the soil surface to prevent significant Palmer amaranth regrowth and seed production. Palmer amaranth should be removed from the field rather than laid on the soil in the field as they have the ability to re-root or re-establish, grow and produce viable seed.
If you have any questions please feel free to contact me at kmjennin@ncsu.edu or 919-740-4500.
---
Break® SP Herbicide Grower Signup
Was the information on this page helpful?
This page can also be accessed from:
go.ncsu.edu/readext?465622